/ Sagrada Familia / Fachada Ábisde / Ábside / Ábside - Fachada Pasión + Frutos en las Naves Laterales
---
Granadas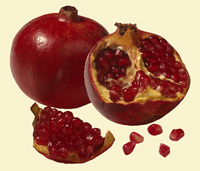 Cesto de granadas del escultor Etsuro Sotoo que representa las frutas con esferas de colores recubiertas con mosaico policromado.
La granada es una infrutescencia, un conjunto de frutos, y se cosecha del granado entrado el otoño. La fruta posee una piel gruesa de color escarlata o dorada con tono carmesí en el exterior y una gran cantidad de semillas internas rodeadas de una jugosa pulpa de color rubí. Es un fruto oriundo de los países del este de Europa.
Grenades
Basket of granades from the sculptor Etsuro Sotoo who represents the fruits with colored spheres coated with polychrome mosaic.
The granate is a infructescence, a set of fruits, and granate tree is harvested in late autumn. The fruit has a thick skin of scarlet or gold with a crimson tone on the outside and a lot of seeds inside surrounded by a juicy, ruby-colored flesh. It is a nativ fruit of the eastern Europe countries.