/ Sagrada Familia / Fachada Natividad / Pórtico / Portal de la Esperanza / Peñasco de Montserrat
---
Sálvanos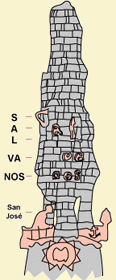 Al pie del pináculo, escrito una sola palabra, dividida en tres sílabas y aparentemente colocadas de forma aleatoria en la superficie del Peñasco, «Sálvanos», la invocación latina de «Salva nos». Es claramente un elemento figurativo que denota esperanza.
La ilustración (PAR 2004) muestra la disposición de las letras.
Save Us
At the foot of the pinnacle, written a single word, divided into three syllables and seemingly randomly placed on the surface of the Rock, «Save us», the Latin inocation of «Salva nos». Its clearly an figurate element that denotes hope.
The illustration (PAR 2004) shows the arrangement of the letters.