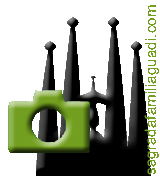 www.SagradaFamiliaGaudi.com
diseñada para / designed for fullscreen (1280X960 pixels) - widescreen (1440X900 pixels)

Explora el exterior de la Basílica Menor de la Sagrada Familia a través de mis fotos, todas ellas con explicaciones de lo que muestran. Rodea la Basílica, parte de una vista general y acércate a detalles de los grupos escultóricos, descubre como era en el pasado.

Explore the outside of the Minor Basilica of the Sagrada Familia through my photos, all with explanations of what they show. Surround the Basilica, start from an overview and approach to details of the sculptural groups, discover how it was in the past.